Our Strategy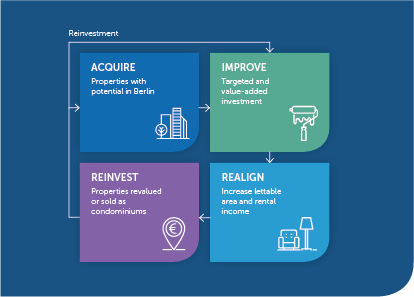 Phoenix Spree's strategy is to manage and invest in our properties in order to improve the overall standard of accommodation for our tenants. Underpinning this strategy is a business model which involves the acquisition, renovation and optimisation of properties to drive further reinvestment into our property portfolio and improve the housing stock in Berlin.
Acquire
Phoenix Spree focuses on apartment buildings that are in relatively poor condition. Through significant reinvestment, the apartments are modernised to improve both the standard of accommodation for tenants and the look of the local neighbourhood. The Property Advisor has historically focused its acquisitions on properties built before 1914 (Altbau). Since listing in June 2015, all buildings acquired have been located in Berlin, and typically require reinvestment to bring them up to modern standards. Single properties, packages and portfolios are considered.
Improve
Vacant units in poor condition are considered for full renovation and vacant attic space is reviewed for conversion to create more residential space. Depending on the level of historical under-investment, apartment improvements can involve heating system and boiler upgrades, new insulation, double glazing, new plumbing, kitchen and bathroom renewal, new flooring, and redecoration. Communal areas, both indoor and outdoor, are also reviewed for potential improvement where investment has historically been lacking. A single apartment generally costs between €20,000 and €30,000 to renovate, while an entire building renovation might cost up to €2 million.
Realign
For properties considered to be core rental buildings, vacant units are re-let after refurbishment at levels that at all times comply with relevant regulations. Tenant lists are reviewed carefully and, only where appropriate, rent increases are applied for, either where tenants are paying less than the statutory rent level (Mietspiegel), where modernisation has been undertaken (and these costs are allowed legally to be recouped), or where the lease contains provisions for indexation. In addition to our core rental business, we also identify properties that may benefit from being converted into condominiums. The condominium process involves the sub-division and re-sale of these apartment blocks with the intention of augmenting returns to reinvest in the property portfolio. We are committed to operating within the relevant regulatory and planning frameworks at all times during the realignment process.
Reinvest
The properties within the portfolio are revalued each year with the investment being reflected in updated property values. To the extent that additional borrowing can be secured on higher property values, a significant proportion of the proceeds are reinvested by way of acquisitions and improvements in the existing portfolio of buildings.
Pop up disclaimer
By clicking on the "I agree" button below, you certify that:
you are not in the United States or any other Restricted Jurisdiction;
you are not in the United States or any other Restricted Jurisdiction;
you are not investing or otherwise acting for the account or benefit of a U.S. Person or a resident of the United States or any other Restricted Jurisdiction
you are not in the United States or any other Restricted Jurisdiction;
you are not in the United States or any other Restricted Jurisdiction;
Do you agree to be bound by the terms and conditions of "our Disclaimer"
I agree
Disagree